Description
VoIP recording simple and cost effective!
The Call Recorder VoIP brings VoIP recording technology within reach of even the smallest office. The Call Recorder VoIP records the IP-phone on your desk. With optional licensing up to 4 IP-phones can be recorded with one Call Recorder VoIP. This makes the Call Recorder VoIP the ideal solution for small to average recording applications.
After installing the supplied PC-recording software, the call recorder VoIP stores all phone calls in a comprehensive database. With every phone call, also the call meta-data (phone number, date&time, call duration, call direction etc.) are stored in the database. This makes sure that recordings can be found quickly, even in a database with thousands of calls.
Whether you are a single private user, small practice or mid-size enterprise, the Call Recorder VoIP offers great functionality at a very moderate investment. The PC software supports the access to multiple Call recorder VoIP's for applications in f.i. Call Centers.
Desktop and IP Soft phones
With VoIP telephony the use of Soft Phones (or Soft Clients) has grown rapidly. The Call Recorder VoIP will of course also record from compatible Soft Phones as well as from desktop IP-phones.
The Call Recorder VoIP comes standard with 1 recording license. Three optional recording licenses can be added to support the recording of 4 IP phones.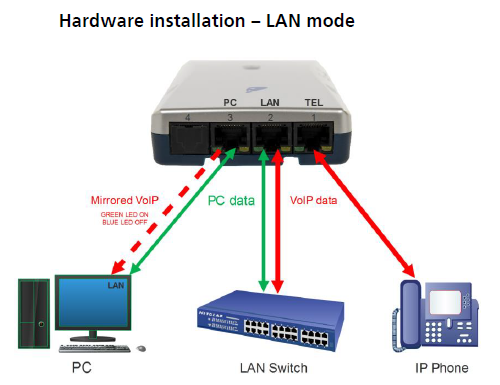 Important features:
– PC based recording of 1 to 4 IP-phones and soft-phones
– Comprehensive database and powerfull search functions
– The device is pre-configured for its function. It has Ethernet ports for LAN, PC and IP-phone
– Compatible with SIP, H323, Cisco, Unify, Alcatel, Aastra, Avaya and other VoIP protocols
– Password protection
– Easy installation, everything you need is in the box
– Compatible with Windows 7, 8 and 10. (Not compatible with Mac or OS X)
– Easy on-line update of the V-Archive PC software
Connections:
PC : Ethernet 10/100BASE-T, full duplex (RJ45)
VoIP : Ethernet 10/100BASE-T, full duplex (RJ45)
LAN : Ethernet 10/100BASE-T, full duplex (RJ45)
USB : High Speed 480Mbps (USB-B), device is powered by USB (200mA)
Specifications:
Size / Weight : 70×66 x27 mm / 60 Gram
Environmental : 0–40 °C, 10–90 % non condensing
EMC : EN 55022:2010/AC :2011 Class B EN 55024:2010
Electric Safety : EN 60950-1:2006+A11:2009+A1:2010+A12:2011
RoHS : EU Directive 2011/65/EU + EN 50581:2012 (RoHS2)
Download: CR VoIP II Manual EN