Description
The Call Recorder Pico is a hardware and software combination to record from an analog telephone line, or from analog audio that a handset receives from a telephone. It records and archives telephone calls on a PC. It consists of a PC application and one or more Call Recorders connecting the telephones to your PC. Depending on the number of USB ports and the capabilities of the PC, it is possible to record from up to any number of Call Recorders simultaneously (4 Call Recorders per 1Ghz).
Every gigabyte of free disk space allows you to record up to 180 hours of conversation on your hard disk. The Call Recorder Pico can record from analog and corded digital telephones, and from a microphone.
Recordings are stored in a comprehensive archive. The archive is displayed on your computer screen as a list of recordings. In the list the recording properties like date and time of the recording are stored with the actual recording and can be viewed in the archive. Queries can be made to get a clear picture of the amount of recordings or to find a specific recording quickly.
Note: The Pico stores all recordings on your PC. For it to make a recording it is necessary that the PC is on and the software is running.
Call Centre use
This call recorder can be used in small businesses where one telephone line is connected to one call recorder, but it is also possible to connect a Pico to every line in a Call centre. For the use of Pico's in a Call centre an API can be installed through which the Pico and the Call Centre's software can work together.
Screen recording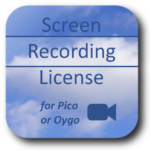 With an additional license, screen recording is available.