Description
• V-Tap ISDN BRI
• V-Archive PC-software for Windows
V-Tap ISDN BRI
The V-Tap ISDN BRI is a hardware and software solution for the recording of telephone calls. The supplied hardware unit can record the audio from an ISDN 2 line. The recorded data is stored digitally onto an SD card and is sent over the network to your PC. The V-Archive (software running on a Windows PC) receives the audio files, together with the original date, time and call number information (meta data).
Do you have an analog telephone? See V-Tap Analog.
Do you have a VoIP telephone? See V-Tap VoIP.
If you have an ISDN BRI line, but only want to record calls from one analog phone, see V-Tap Analog.
Download: V-Tap ISDN BRI Manual
V-Archive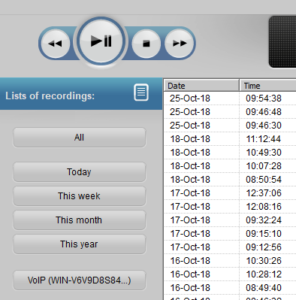 The V-Archive software imports recordings from the V-Tap, but also from other Vidicode products like the V-Mic. Therefore you are able to archive all your recordings in one central database.
V-Archive Features
• The V-Archive application has a comprehensive database and search function. Properties include date and time, duration, direction, and telephone number. Properties of the recordings are displayed in corresponding columns. It is possible to sort the recordings according to the recording properties by clicking on the header of the column.
• The recording files (.wav) are stored in the GSM or G.711 format. These files can be played on almost any PC, and can be used to share recordings with other people.
• You can attach a name to a specific telephone number.
• You can add notes to recordings
• The database can be shared with other Vidicode products: Call Recorder Pico and Call Recorder Oygo.
The playback key functions resemble the ordinary key functions known from for instance the VCR.

• A: Move the playback position backward.
• B: Start or pause the playback of the currently selected recording.
• C: Stop the playback, or stop the recording when a call is recorded on demand
• Note: When recording on demand is active, an additional red record button can be used to start the recording.
• D: Move the playback position forward.
• E: Information about the current playback or recording is displayed here. Click on the progress bar to move to a specific position.
• F: Controls the playback volume.
Transcription of V-Tap audio recordings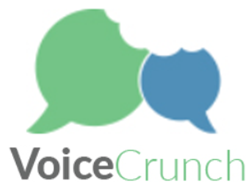 Recordings stored in V-Archive can be transcribed using VoiceCrunch. This online service will analyse the audio and create text. It will send the text to V-Archive, where it will appear in the note field of the recording. Note fields of recordings are searchable in the V-Archive software. For audio transcription to work, an account at VoiceCrunch is needed.