Recording license V-Tap VoIP for PC
The V-Tap VoIP can handle a number of VoIP phones simultaneously. You need one license per telephone. Use the web interface of your V-Tap VoIP and the Vidicode website to activate this license.
If you have ten VoIP telephones or more the Apresa might be a more cost effective solution for you.
The number of VoIP phones you can record with one V-Tap is limited if there's much data traffic that passes through your V-Tap VoIP. Contact us for advice.
See also
Download: V-Tap VoIP Manual EN (pdf)


You may also like…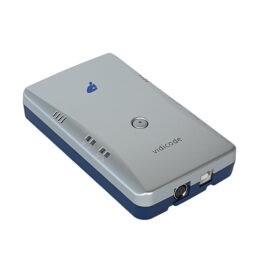 V-Tap VoIP 2 + 1 PC recording license
• Record VoIP calls and store them safely and centrally. • Search for recordings by telephone number, date and time. • Comply with privacy regulations with more ease. • Access your recordings from anywhere in the world. V-Tap VoIP records VoIP telephone calls. During a call, V-Tap reads the data that is sent and received by IP phones. It can store this data on its own SD card and send it over the network to a Windows PC. The V-Archive software (included) runs on a PC. It is able to receive the phone call data and makes playable audio files from it, together with the original date, time and call number information (meta data). Do you have more than one VoIP telephone? You can buy
additional PC recording licenses
. This V-Tap VoIP package contains: • V-Tap VoIP hardware • V-Archive • recording license for use with PC software (1 channel) Download:
V-Tap VoIP Manual
€

410.00 excl. vat
Add to cart