Recording License Call Recorder VoIP
This recording license is meant for the Call Recorder VoIP. The Call Recorder VoIP comes standard with 1 recording license. Three optional recording licenses can be added to support the recording of 4 IP phones.
Download: CR VoIP II Manual EN
You may also like…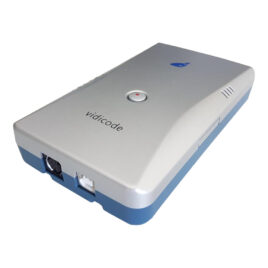 Call Recorder VoIP + 1 recording license
VoIP recording simple and cost effective!
The Call Recorder VoIP brings VoIP recording technology within reach of even the smallest office. The Call Recorder VoIP records the IP-phone on your desk. With optional licensing up to 4 IP-phones can be recorded with one Call Recorder VoIP. This makes the Call Recorder VoIP the ideal solution for small to average recording applications. After installing the supplied
V-Archive
PC-recording software, the call recorder VoIP stores all phone calls in a comprehensive database. With every phone call, also the call meta-data (phone number, date&time, call duration, call direction etc.) are stored in the database. This makes sure that recordings can be found quickly, even in a database with thousands of calls.
Important features:
• PC based recording of 1 to 4 IP-phones and  soft-phones • Comprehensive database and powerfull search functions • The device is pre-configured for its function. It has Ethernet ports for LAN, PC and IP-phone • Compatible with SIP, H323, Cisco, Unify, Alcatel, Aastra, Avaya and other VoIP protocols • Password protection • Easy installation, everything you need is in the box • Compatible with Windows 7, 8 and 10. (Not compatible with Mac or OS X) • Easy on-line update of the V-Archive PC software
See also:
Additional CR VoIP licenses
Download:
CR VoIP II Manual EN
€

229.00 excl. vat
Add to cart